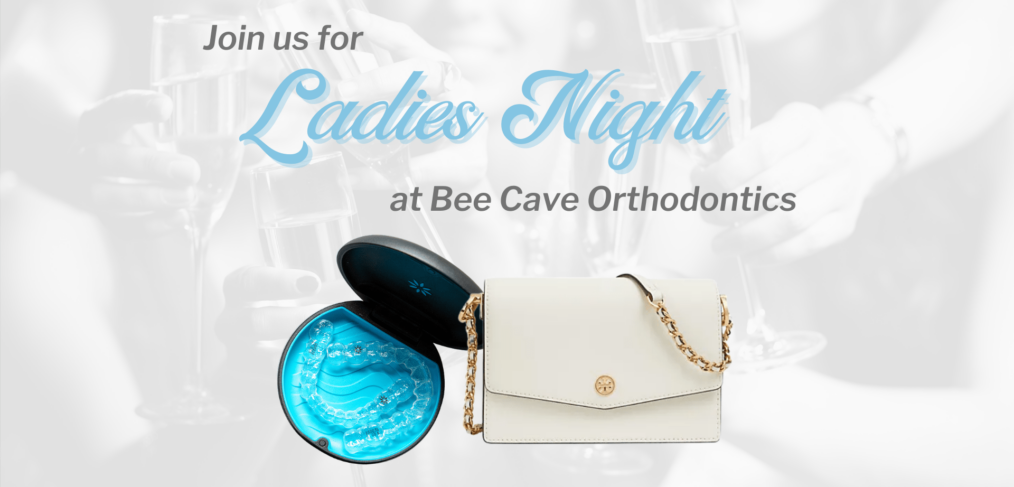 Join Us for Ladies Night and Win a FREE Invisalign Treatment in 2021 (Austin, Texas)
Nothing like a Ladies Night out to help unwind! Here at Bee Cave Ortho, we understand the importance of working hard and having fun here in Austin, Texas.
We're happy to announce that this year we will be throwing our Ladies Night event at the Bee Cave Ortho office on May 13th from 5:30pm-7:00pm. All ladies are invited for a night of fun, prizes, appetizers and wine! As one of our biggest events of the year, we decided to go all out!
Bring a friend with you who is completely new to Bee Cave Ortho and BOTH will automatically receive a professional tooth whitening pen with your swag bag. Everyone who comes to our event will be given a complimentary iTero scan! What is an iTero scan? iTero scanners are the latest Invisalign technology and will help produce quick colorized images in just MINUTES! With our staff having decades of experience, we'll be able to evaluate your current smile and asses whether your teeth are in great condition or what we can do to help if you're experiencing any issues.
Now let's talk about our grand prizes for the night! ONE lucky winner will be winning a FREE Invisalign treatment, Invisalign treatments typically cost around $6,000. We will also be giving away a beautiful Tory Burch purse ($300 value) perfect for the summer! The Tory Burch Robinson Convertible Mini Shoulder Bag is designed with high-quality and scratch resistant leather.
We will be having ONE TIME ONLY deals and offers for every guest at our event. We will be offering $500 off Invisalign treatment if you decide to start treatment with Bee Cave Ortho. You will also be given the option to start Invisalign treatment with $0 down and we offer low payments starting at $200!
Every guest at the event will be given an AWESOME swag bag filled with lots of goodies from your favorite local businesses here in Bee Caves, Texas. We are very excited to be throwing this event for our local community in Bee Caves. Simply sign up in the form BELOW to RSVP and we'll see you there!