So many toothbrushes, so little time! Have you ever wondered whether you're using the right toothbrush for your dental health? Let's see what the difference is between brushing your teeth with an electric toothbrush versus a manual toothbrush.
Electric Toothbrush vs. Manual Toothbrush
Brushing your teeth is very important when it comes to keeping your teeth clean and healthy. When it comes to brushing your teeth with a manual or electric toothbrush, both can actually get the job done! According to the American Dental Association (ADA), both toothbrushes can be used to effectively remove oral plaque.

Although an electric toothbrush or manual toothbrush are both good options, the way you brush your teeth will vary with each option. Whether you decide to use one over the other, the ADA puts their seal on both types of toothbrushes and are proven to be effective. With either choice, you still have to move the toothbrush around in order to reach all areas with buildup such as the tooth surfaces, inside of the mouth, and gums.

Let's take a look at the benefits for each to figure out which one is the right one for you!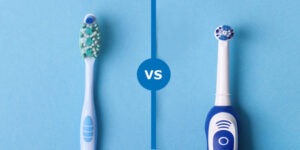 Benefits of Using an Electric Toothbrush
The biggest benefit about using an electric toothbrush is that it automatically does some of the work for you. The electric toothbrush bristles will either vibrate or rotate to help remove buildup that forms on your teeth and gums. The vibrations will add to the overall movements whenever you're moving your toothbrush across your teeth.
It has been proven electric toothbrushes will decrease plaque and gingivitis more than a manual toothbrush! With automatic functions available, electric toothbrushes are easier for people with limited mobility. Since it does most of the work for you, electric toothbrushes are a great option for people with carpal tunnel syndrome, arthritis and disabilities.
Electric toothbrushes will sometimes have a built-in timer that can help you brush your teeth effectively to remove buildup of plaque from your teeth and gums. Not only is the timer a great feature but electric toothbrushes will cause less waste since you will only need to replace the head instead of throwing away a full manual toothbrush every time.
Benefits of Using a Manual Toothbrush
With electric toothbrushes being more expensive than manual toothbrushes, there are plenty of benefits when it comes to using a manual toothbrush versus an electric one. Overall, both toothbrushes will give you the same results! So you don't have to worry about your teeth and gum health due to not being able to afford an electric toothbrush.

Replacing things such as an electric toothbrush head can also be inconvenient at times since not all stores carry them. You will have to go out of your way to purchase these heads whether they're only available online or at a specific store. In comparison to manuals, you can find them everywhere. They are a good option to consider if you highly prioritize convenience.

Manual toothbrushes are more travel friendly because electric toothbrushes will need to be charged or plugged in. So if you're looking for a more convenient way to travel while keeping your teeth clean, manual toothbrushes would definitely be the better choice!

The vibrations on an electric toothbrush may not be for everybody. Since the technique is different for both, the extra movement that an electric brush offers can become pretty messy.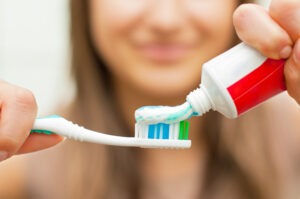 Summary
There are multiple reasons why you should go with either option! Overall, all that matters is that both types of toothbrushes have been proven to improve your oral health. The techniques you use will vary but they have the seal of approval from the American Dental Association. Which toothbrush do you prefer to use? Happy Toothbrushing!
Find us on Youtube!
Toothbrush Recommendations:


Sonicare Electric Toothbrushes:
https://www.usa.philips.com/c-m-pe/electric-toothbrushes#triggername=color_white
Oral B Electric Toothbrushes:

https://oralb.com/en-us/products/compare/electric-toothbrushes
Quip Electric Toothbrushes:

https://www.getquip.com/store/
Goby:
http://www.goby.co/