The time has come! The pediatric dentist recommends that you should take your child to an orthodontist for a consultation. What's the next step in finding an orthodontist near Austin?
What age should my kids get braces?
Children should have an initial orthodontic evaluation by the age of 7. Even though orthodontics are often associated with braces and teens, patients of all ages can benefit from improved oral health. In fact, the American Association of Orthodontists recommends children have their first orthodontic exam by about the age of 7. This may seem strange but since their mouths are still developing and while still having baby teeth, that's actually the point! Evaluations at this stage give us the chance to spot any potential problems early on, which can lessen or eliminate a negative impact on your child's permanent teeth and bite.
Here at Bee Cave Orthodontics, we treat many younger patients, so we've seen the difference that preventive care can make. When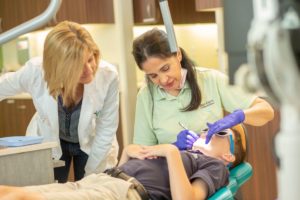 we're able to start treatment at the right time, it can have a big impact on a child's oral health, both now and in the future. And although most children won't require any active treatment at first, an early exam is still important since it lets us determine if orthodontic treatment will be necessary early on. When it comes to experience, Dr. Da Silveira has been the chief of Orthodontics at numerous Children's hospitals for the last 25 years! She has treated many complex cases in these young patients and she has assembled a caring and experienced team at BCO as well!
Choose an orthodontic office that works for you and your family and your busy lifestyle at Bee Cave Orthodontics
When you have a child undergoing any type of orthodontic treatment means you'll both be spending quite a bit of time in the orthodontist's office. Depending on the type of appliance and treatment, most patients will need to be seen once every 6-12 weeks or so. That's why it's essential to find an office that you and your child feel comfortable with! Ask these questions: is the doctor and team experienced in treating young kids? Will they be flexible and caring about my kids' needs?
Orthodontic care is a big investment in your child's oral health and smile, and we take the trust you've placed in us seriously. You should feel fully confident in the journey ahead, so let's take a look at some of the important things you should know about the orthodontic process before your child begins treatment!
Our west Austin (Westlake, Bee Cave, Lakeway, Spicewood, Dripping Springs) office is conveniently located and our expert team provides the highest-quality care in a safe, welcoming, and supportive environment. We use only the latest technology and most innovative treatments, so you can always be sure you're receiving the most efficient treatment for the best results possible. We'll greet you warmly at every appointment, and want to hear all about what you and your family have been up to in between visits. We always go the extra mile to make sure our patients achieve the Bee Happy Smile they want – and deserve!
Which braces are the best for my kids?
Bee Cave Orthodontics takes pride in combining cutting-edge techniques and technology with customized treatment plans. This helps us achieve straighter, healthier smiles for all our patients! We offer the following treatments in our office.
Traditional Metal Braces near Austin Texas
This is the most popular orthodontic treatment available, year after year. Metal braces are strong, effective, and affordable. Today's designs are more comfortable than ever before, and can even be customized with colored bands.
Carriere® SLX™ Bracket System
This self-ligating system is designed with low pressure, low force, and low friction in mind. It provides maximum comfort in metal braces, and also reduces treatment time by about four months on average while still producing incredible results
Palatal Expanders
These expanders create more space in a child's mouth by gradually widening the upper jaw. Although this may sound scary, it's really quite easy — both to do and to tolerate. That's because the upper jaw actually develops as two separate halves that don't completely fuse together until sometime after puberty. Before that happens, the two bones can gently be separated and stabilized over a period of several months. The three situations that most commonly call for maxillary expansion are for crossbites, crowding and impacted teeth.
Clear Braces near Bee Cave, Texas
Clear braces work in the same way as traditional metal, but the brackets are made of a translucent material, usually ceramic, that blend in with the natural tooth color. Clear braces provide a more discreet alternative to traditional metal braces and are equally effective.
Invisalign First – clear aligner for kids and Invisalign Teen
Our office is proud to be a certified provider of Invisalign clear aligners, which give you a clear, convenient, and comfortable option to achieve the smile you've always wanted. Instead of the brackets and wires that braces use, Invisalign aligners are nearly invisible and completely removable, giving patients extra freedom and flexibility. Once the teeth begin to shift, aligners will need to be changed out every 1-2 weeks to keep up with the movement which will all be done at home. Aligners must be worn at least 20-22 hours every day throughout the course of treatment in order to work properly.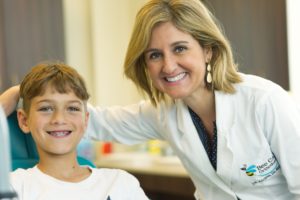 This type of treatment can substitute for many appliances as it can expand, move teeth and shift bites all in the combination of aligners and rubber bands. Dr Da Silveira has given numerous presentations to National and International meetings about this treatment modality and is a leader of this type of treatment in Austin! At Bee Cave Orthodontics, the average appointment for Invisalign is once every 10-12 weeks. In between appointments we utilize a process where patients take pictures at home and send to our special site through an app to monitor the progress of your orthodontic treatments … It's like a virtual orthodontist appointment!
Treatment times will vary from patient to patient There's no "one size fits all" answer when it comes to how long a patient will be in braces or aligners, as every case is different, and each patient responds to treatment in their own way. The length of time that your child will require treatment will depend on their specific case, the severity of the problem, the health of their teeth, gums, and supporting bone, and how compliant they are. We can say, however, that on average, braces tend to be worn for about 12 to 24 months, while Invisalign treatment averages around 12 to 18 months. For phase 1 treatment, the average times are between 6 to 12 months.
Does insurance cover braces for children in Austin, Texas?
Most dental insurances with orthodontic benefits will cover braces for children. The average cost of braces for children ranging from $3,000 to $7,000 is dependent on a number of factors—but there are many ways to cut down on the cost and keep you and your child smiling. FSA/HSA cards can be used and our office provides 0% interest free payment plans. We also accept Care Credit and Lending Pointe payment cards. With many payment options, you can be sure to be able to afford braces for your child.
Give your child a healthy smile with Bee Cave Orthodontics
We know that moms want nothing but the best for their children, including a healthy, beautiful smile that will last them a lifetime! If you have a child age 7 or above that is ready for their first orthodontic consultation, we'd love to meet you both and explain more about how orthodontics can benefit them. If you're in Austin or the surrounding areas, and would like more information on what we have to offer, get in touch today to schedule a FREE initial consultation.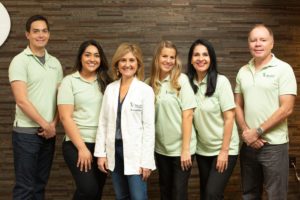 Claim Your Free Consultation and 3D Scan at Bee Cave Orthodontics:
SIGN UP FOR A COMPLIMENTARY CONSULTATION TO TALK TO US ABOUT THE SMILE OF YOUR DREAMS
During your free consultation you will receive:
Diagnostic x-ray imaging
Itero 3D scan
A treatment plan from a world class orthodontist and researcher