Summer is here! And there's nothing better than free Austin FC Tickets! We're very excited to be giving away 2 free tickets to the Austin FC vs FC Dallas game to one lucky winner!
School's out and it's summer time! There's nothing better than going to watch a soccer match! As a small business, we're very grateful for every patient that we have. That's why for the month of August, we will be giving away 2 Free Austin FC tickets to one lucky winner!
Austin FC is the first top-division major professional sports team in the Austin area. With them playing their first season ever, we thought that this would be an amazing experience for one of our patients here at Bee Cave Orthodontics. Our goal is to create Bee Happy Smiles all over Bee Cave and Central Texas! Every Google review and testimonial we receive allows us to keep doing what we love.
When you decide to leave us a Google Review for the month of August, your name will be automatically put into a drawing! YAY! We would love to hear you experience on how your treatment went or if your child is currently going through treatment. Google reviews allow us to show potential patients on what to expect when they reach out for a consultation. It also allows them to envision what their treatment would look like when they choose Dr. D as their Orthodontist.
So from now to August 20th, 2021, we will be collecting everyone's name on our Google Reviews tab. Our giveaway is open to anyone who has received orthodontic treatment by us or currently has a family member who has received treatment. We will collect all of the names and do a random drawing. We will be choosing only one winner and they will be receiving a pair of Austin FC tickets. The winner will have the opportunity to watch the Austin FC versus FC Dallas game on August 20th at Q2 Stadium here in Austin, Texas!
We are looking forward to reading everyone's Google Reviews. Good luck!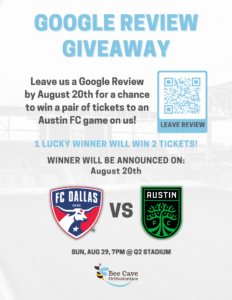 Bee Cave Orthodontics is an Invisalign and braces provider located in Austin, Texas. Schedule your free consultation with us today!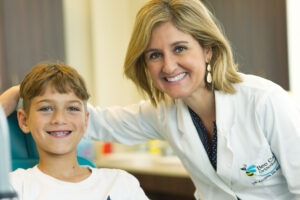 Claim Your Free Consultation and 3D Scan at Bee Cave Orthodontics:
SIGN UP FOR A COMPLIMENTARY CONSULTATION TO TALK TO US ABOUT THE SMILE OF YOUR DREAMS
During your free consultation you will receive:
Diagnostic x-ray imaging
Itero 3D scan
A treatment plan from a world class orthodontist and researcher