Happy New Year! It's now 2022! Many of us — including the team here at Bee Cave Orthodontics — are looking forward to a happy and healthy new year. What a better time than the New Year to prioritize and focus on your dental health. Have you've thought about transforming your smile? We understand that choosing to receive orthodontic care can be life-changing as it can improve your bite and overall appearance! It's never too late, New year, new smile!
New Year, New Smile with Bee Cave Orthodontics
It's finally the New Year and you probably have made a few New Year's resolutions: exercise more, eat healthier, focus on your mental health, and spend more time with loved ones! These are all great reasons to invest in yourself for a better life! So why not a new smile for 2022? There is no better time than now! Today there are so many different options to achieve the smile and bite you deserve, all dependent on your preference!
These include Invisalign, BCO clear aligners, metal braces and digital clear braces! Let us evaluate your needs and goals and customize a treatment plan just for you! Treatments can last from 5 to 10 weeks for minor teeth realignment to 2 years for complicated bite issues.
BCO Clear Aligner System (Minor Realignment)
BCO clear aligners are the next generation clear aligners! They are designed and 3D printed on-site based on a digital simulation of teeth in their ideal positions. Along with our state of the art iTero 3D scanner and our 3D printers, we use only the finest quality materials. These are perfect for small movements and teeth alignment. You will be able to start your treatment as soon as possible. BCO Clear Aligners are ready the same day as your appointment, instead of the 3-4 week production time for Invisalign aligners.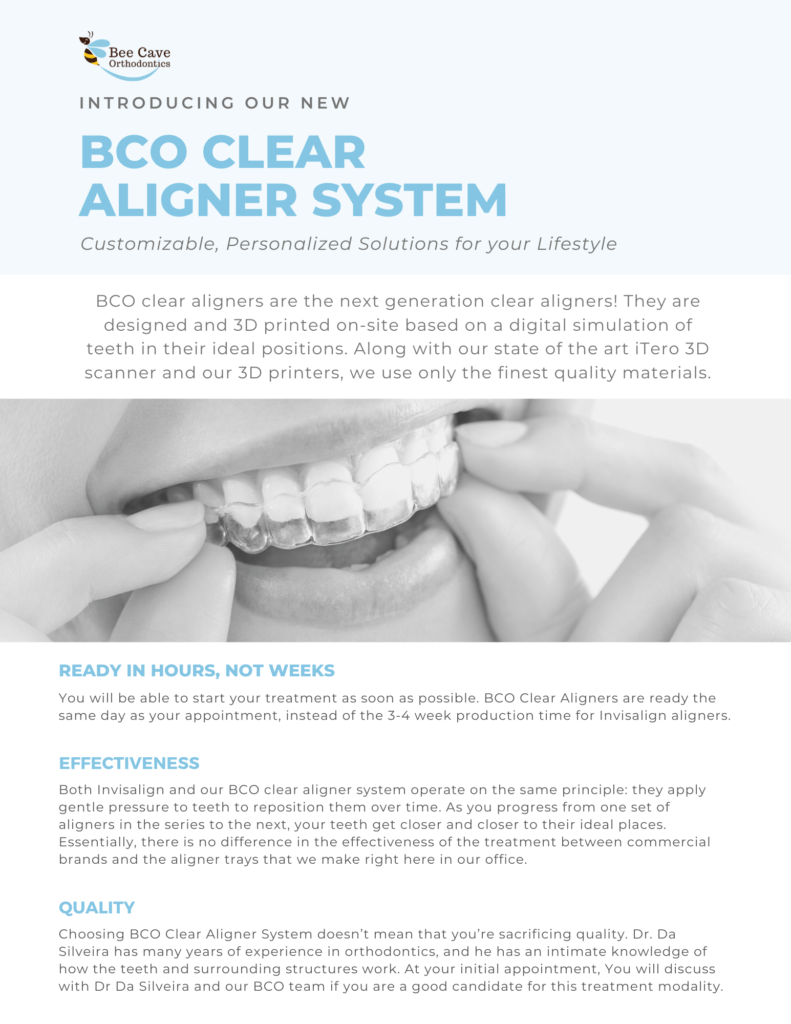 Invisalign (Minor & Complex Cases)
Invisalign is the best known clear aligner system in the world! Invisalign treatment is the process of wearing a series of clear, removable aligners that gradually straighten your teeth. No brackets and wires, and none of the restrictions that come with braces. 
Over 11 million people, including more than 1.4 million teens, have used Invisalign clear aligners to transform their smiles. Dr. D is an experienced 
Invisalign provider using this system to treat complicated bite issues including severe underbite and overbite as well as cases that require jaw surgery.
Digital clear braces are the next generation of braces. They are 3D printed to fit your teeth and move your teeth more precisely due to computer aided planning making them a great discreet option for those who don't want removable options but still do not want metal braces.
Teeth Whitening Treatments
Teeth whitening can be performed at the same time as treatment when you have aligners. Teeth whitening is the most requested cosmetic dentistry service in the United States. You have probably seen all the ads for whitening toothpastes and mouthwashes, and if you use any of these products, you may not think that we can add much to the game. But there's an enormous difference between the strength of the abrasives and bleaches you can buy at the store and those used at the dentist's office.
Does Insurance Cover Invisalign?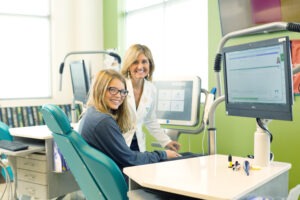 A new year may also mean new and better dental and orthodontic benefits and/or new or increased FSA/HSA money. All of which can be applied toward your treatment! Do you need help understanding your available benefits? Do you want to learn more about your pre-tax dental dollars? We are here to help! We want to be sure you maximize the benefits you already have because nothing should get in the way of your new smile. Let us do all the work for you! Just call/text/email us with your new benefit information and our insurance specialist will be happy to look into it. 512-334-0444 to call/text or email us at: [email protected]
Start Invisalign Treatment with Bee Cave Orthodontics
At Bee Cave Orthodontics, we want to give you a new smile that stands out from the crowd. After all, your smile is the first thing people notice about you, and the thing they're most likely to remember, too! That makes orthodontic treatment one of the most important investments you can make for yourself or your family. Our talented team, including Orthodontic expert Dr. Adriana Da Silveira, can be trusted to deliver a beautiful, healthy smile you'll want to share with everyone around you!
If you're in Austin, Bee Cave, Lakeway, Spicewood, Westlake, Dripping Springs or the surrounding Central Texas areas, and want to learn more about how orthodontics or Invisalign treatment could benefit you and your family, get in touch with us today! Our FREE consultation makes it easier than ever to take the first step towards the smile you've always wanted (and deserve!)
Bee Cave Orthodontics is an Invisalign and braces provider located in Austin, Texas. Schedule your free consultation with us today!